Poddaj regeneracji fabrycznej urządzenia Allen-Bradley. 
Zwiększ wydajność poddając urządzenia regeneracji fabrycznej. Ta opcja to trzy korzyści: urządzenie jak nowe, większa moc produkcyjna oraz ograniczona liczba  się odpadów. 
Osiągnij następujące korzyści dzięki regeneracji.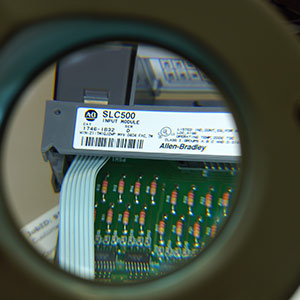 Wymiana niesprawnych i ulegających degradacji części na nowe, spełniające wszystkie wymagania  OEM.
Aktualizacja oprogramowania do najnowszej wersji.
Test funkcjonalny, pod obciążeniem.
Urządzenie dokładnie wymyte, a zużyte obudowy wymienione.
Zwiększony przewidywany czas pracy urządzenia.
Pozytywny wpływ na zyski firmy
Zwiększona wartość w przypadku odsprzedaży
Zwiększona trwałość
Zachęcamy do zwiedzenia naszego Centrum Regeneracji Fabrycznej i Serwisu Wymiennego w Wielkiej Brytanii. Można zobaczyć jak przebiega proces regeneracji i testów w standardzie OEM.
Poniżej przedstawiamy przykładowe serie i modele urządzeń, które regularnie pojawiają się w naszym centrum.
Sprawdź jak poddać urządzenia Allen-Bradley fabrycznej regeneracji.
Co zyskują Klienci?
Najnowocześniejsze warsztaty
Nasze warsztaty i dedykowane urządzenia testujące wykorzystują najnowszą technologię.
Doświadczeni inżynierowie
Lektronix to wysoko wykwalifikowani i doświadczeni inżynierowie, przygotowani do naprawy szerokiego asortymentu urządzeń.
Naprawy ekspresowe
Naprawy ekspresowe urządzeń trwają maksymalnie 3 dni roboczych*
Miedzynarodowy zespół sprzedażowy
Zapraszamy do rozmowy z naszym przedstawicielem w wybranym języku.
12 Miesięczna Gwarancja
Wszystkie nasze naprawy oraz dostarczone urządzenia są w całości objęte 12 miesięczną gwarancją.
Zadzwoń do nas:
lub
Nasz Doradca skontaktuje się z Państwem niezwłocznie.