Usługa konwersji napędów w Lektronix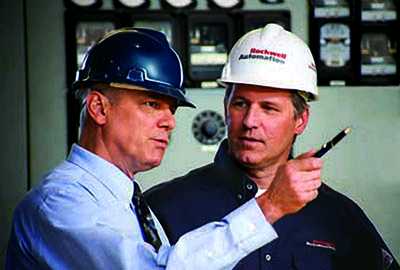 Uaktualnienia i modernizacje
Usługa konwersji to możliwość wykorzystania naszego bogatego doświadczenia w automatyzacji i zapewnienie kompletnej aktualizacji urządzeń, oprogramowania oraz usług typu start-up.
Przejście na nowszą i szybszą technologię pozwala na zwiększenie wydajności i osiągniecie nowych celów biznesowych.
Integracja systemów z Lektronix
• Czy zależy Państwu na poprawie jakości produkcji?
• A może chcą Państwo zwiększyć produktywność?
• Lub wymienić urządzenia niedostępne, których awarie są przyczyną nieplanowanych przestojów?
Lektronix, Rockwell Automation oferuje kompletne rozwiązanie: od projektu, przez kompletowanie, po implementację produktów Allen-Bradley na istniejących lub nowo tworzonych liniach produkcyjnych. Bez względu na to, czy chodzi o wymianę pojedynczego falownika lub złożoną integrację systemów, znajdziemy rozwiązanie i wrócimy z ofertą.

Napędy Allen-Bradley
Przejście na najnowszy napęd z rodziny PowerFlex® i dedykowany sterownik PLC w przypadku starszej serii Allen Bradley lub urządzeń innych marek nie wiąże się z większymi utrudnieniami.
Proponujemy aktualizację następujących serii napędów:
•B160 •1333 •1334 •1336 •1305
Konwersja dla urządzeń innych producentów
Możemy zaproponować konwersję napędów, sterowników PLC, paneli HMI oraz systemów SCADA innych producentów na produkty Rockwell Automation. Konwersja na produkty Allen Bradley obejmuje następujących producentów:
ABB
Control Techniques
Danfoss
Eurotherm
Baldor
Bosch
Fuji
GEC
Telemecanique
Honeywell
Indramat
IMO
Invertek
KEB
Lenze
Mitsubishi
Modicon
Omron
Siemens
Parker
SEW
Teco
Hitachi
Square D
GE Fanuc
Texas
Toshiba
Vacon
WEG
Yaskawa
Usługa konwersji to nasza unikalna propozycja w branży.
Wdrożenie projektu konwersji:
1. Konsultacja
Nasi inżynierowie ustalą z Państwem listę urządzeń potrzebnych do implementacji projektu.
2. Kierownictwo projektu
Kierownik projektu jest odpowiedzialny za koordynowanie wszystkich działań. Jest też osobą kontaktową podczas całego procesu konwersji.
3. Inżynieria
Grupa dedykowanych inżynierów korzysta z wielokrotnie sprawdzonych rozwiązań i przeprowadza gruntowne testy funkcjonalne jeszcze przed pierwszym rozruchem.
4. Pierwszy rozruch i odbiór prac
W ostatniej fazie konwersji, nasi inżynierowie, w ścisłej współpracy z Państwa personelem zakładowym, pomogą wykonać pierwszy rozruch.
Korzyści Konwersji
Poprawa jakości produkcji
Najnowsze produkty objęte kompleksowym wsparciem
Ograniczenie nieplanowanych przestojów
Lepsza wydajność energetyczna
Dostępne części zamiennych
Zmniejszenie kosztów długoterminowych
Zwiększenie funkcjonalności maszyny